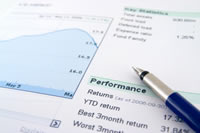 Business planning for your future
Our approach is very simple and effective.
Working closely with you, our approach is to ensure that achievable strategies and profit plans are developed for both internal use and to meet the requirements of banks and other loan funds providers.
We help you with the crucial co-ordination of tasks in the preparation of monthly budgets, cash flow projections and in the drafting of business plan assumptions. In this way we help to ensure the effectiveness of requests to your bank for overdraft facilities, grant applications and approaches for raising finance in the market generally.

Diagnostic checks
An objective review carried out from time to time in any business can bring considerable benefits.

It is important to be aware of inherent weaknesses, impending threats, and to keep in mind strengths which can make the most of latent opportunities.
There are times when activities which bring about a net drain on a firm's resources go unchallenged because their real impact is not fully appreciated. We examine your business processes, procedures and systems, with the aim of suggesting profitable improvements.
We identify and provide solutions to the hidden problems. By offering you ways of improving what you do and how you do it, we help you to introduce changes which will contribute to the long term stability of your organisation.

For reliable help with business planning and a business health check, please call us on 01642 785 161